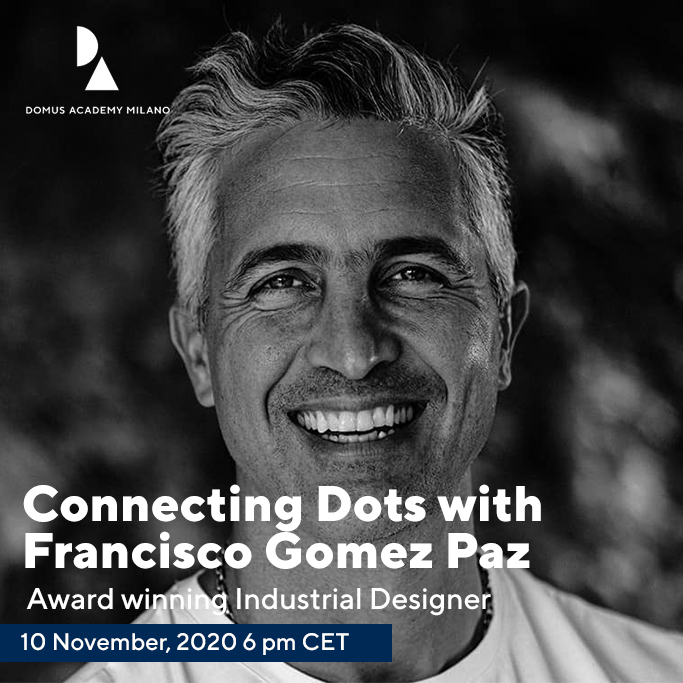 Domus Academy is organizing the next appointment of the webinar Connecting the Dots, an online occasion to meet our Alumni and get insights and inspiration from their stories.
Francisco Gomez Paz, Domus Academy former student and award winning industrial designer, will be the guest. A conversation between Francisco and Paolo Lorini, teacher and independent consultant, to go through his studies and career history and discover the key moments and decisions of his path and how the experience at Domus Academy was significant.
After obtaining his Industrial Design degree in Argentina, Francisco Gomez Paz moved to Milan in 1998 where he attended the Master's in Product Design at Domus Academy. Since opening his design office in Milan in 2004 he has developed products for leading design companies such as Artemide, Driade, Danese, Lensvelt, Luceplan, Olivetti and Sector among others. Francisco's approach to design is driven by his own curiosity, the knowledge of technology and materials and a highly experimental hands-on creative process. His work has on several occasions received international recognition including the Good Design Award 2010 and the Red Dot Award 2010. Moreover, he was honoured with the First Prize of the Index Award for the Solar Bottle and he received the Prize of Prizes to Innovation in Design from Italy's president Giorgio Napolitano for the Hope chandelier and the prestigious Compasso d'Oro 2011. Again this year, he recently won the Compasso d'Oro 2020 with his project Eutopia.
He is active in the fields of research and education and he's a visiting professor at Domus Academy since 2000. His projects have been exhibited in several international events and published by major design publications. He currently works and lives in Milan.
The webinar will be held on the 10th of November, at 6:00 pm (CET)