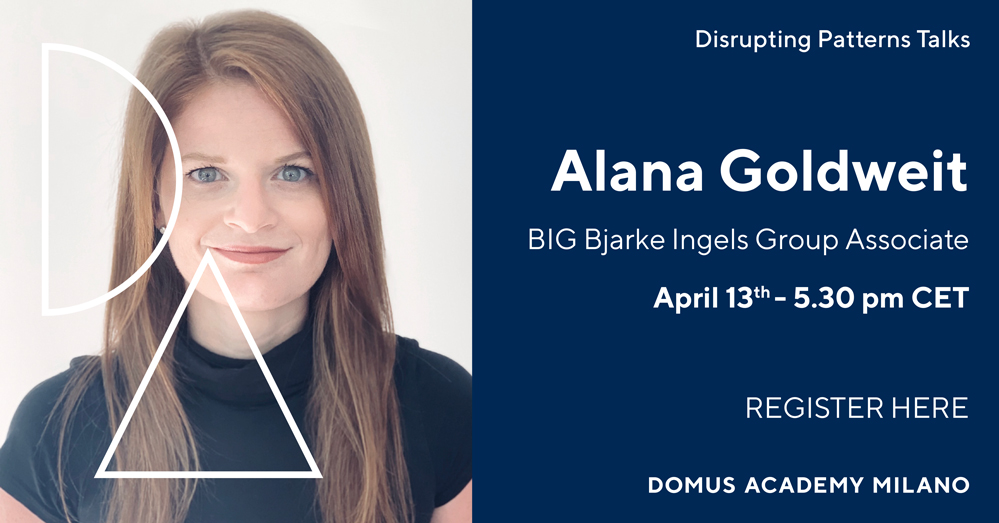 Domus Academy

Talk with BIG Bjarke Ingels Group
Alana Goldweit, Associate and Senior Designer at BIG Bjarke Ingels Group, will be the guest of the upcoming Disrupting Pattern online talk on April 13th.
BIG is a Copenhagen, New York, London, Barcelona and Shenzhen based group of architects, designers, urbanists, landscape professionals, interior and product designers, researchers and inventors. The office is currently involved in a large number of projects throughout Europe, North America, Asia and the Middle East. BIG's architecture emerges out of a careful analysis of how contemporary life constantly evolves and changes.
Since 2012, Alana Goldweit has collaborated on numerous cultural and residential projects, including future-making and visionary masterplanning projects such as Oceanix Sustainable Floating Cities and Telosa: An equitable and sustainable City in America envisioned by Marc Lore.
In addition, Alana led BIG's feature exhibition at the National Building Museum in Washington DC, design and curating the large-scale exhibition that received 100,000 visitors in its first two months.
She spearheaded the design and publication of Hot to Cold, a 700-page book published by Taschen, which highlights 60 of BIG's latest architecture projects. She has managed the coordination of large client and consultant teams, as well as diverse stakeholder groups.
The talk will be held online on April 13th, at 5.30 pm CEST.
Take the chance to know more about the inspiring projects designed by BIG!