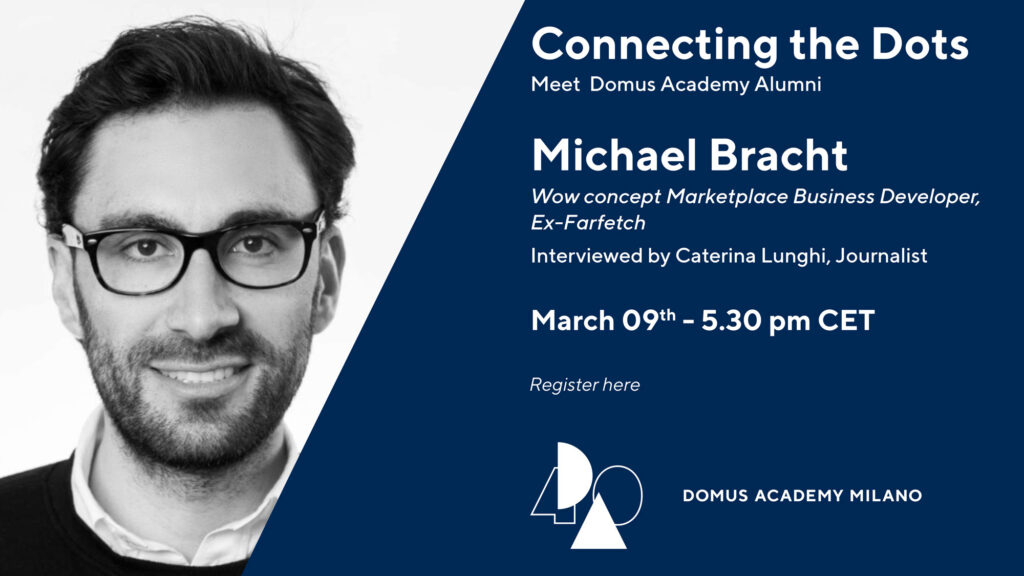 Make sure to register for the next webinar Connecting the Dots, on March 9th, an online opportunity to meet our Alumnus Michael Bracht and get insights and inspiration from his story.
Michael joins a conversation with Caterina Lunghi, journalist and teacher, to discuss his journey from the beginning to his achievements.
Michael is from Bogotà, Colombia and after a degree in Business Administration at CESA University, he attended the Master's in Fashion Management at Domus Academy.
Michael started his career working in the commercial department of Avianca, Colombia's leading airline. After that, he worked in MullenLowe, where he fell in love with the communication world finding a strong interest in Fashion.
From early age, Michael had contact with the fashion world thanks to his family business. His parents had a Leather factory in Colombia and produced materials for many brands. The memories of his childhood and his closeness to the world of fashion led Michael to move to Milan to attend the Master in Fashion Management at Domus Academy.
During his stay in Milan he had the opportunity to undertake an internship at Colombo Via della Spiga in the Marketing department. In 2018 he received an important job offer: Key Partner Success Manager for Farfetch. After spending three years in this company, he moved to Madrid where he currently works as Business Development Manager for Wow Concept, a new Marketplace/Store offering a complete Phygital experience to its customers from 2022.